In Applied, Design, Skills and Technologies this term we learned how to hand sew and use sewing machines. Mrs. Braam told us about a need for baby blankets in our community, so we decided to make quilts and donate them to the CDC for children and moms in need in Terrace.
To start off we split into pairs and planned out our quilt designs. It was hard work but still enjoyable. Once our designs were complete, we chose colourful fabrics and began to cut squares…. 49 in total. This took very long because the squares have to be exactly the same. A few squares had to be redone in the process.
After we cut our squares, we started to assemble our patterns and attach them with tape, until w
e were satisfied with the final design.
Before we could start using the machines, we had to learn how to properly thread the machines and use them. This proved to be an interesting process, we learned a lot!
Then we sewed….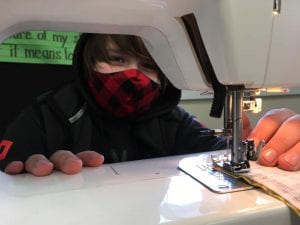 We had to remember to put the "good" sides together, to keep the edges lined up with the foot, follow the pattern (sometimes the seam rippers were a popular tool), fill the bobbins and re-thread the machine.
We are relieved to be done, proud of the final result, and excited to have finished our first projects on a sewing machine, it was totally worth the effort.